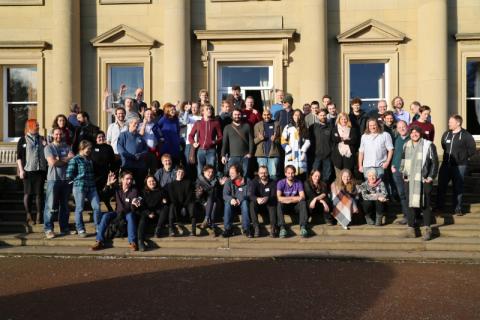 By a unanimous vote on Loomio, SolidFund members approved a grant to support this year's successful CoTech retreat.
Here is a transcript of the successful proposal, from Chris Lowis of Go Free  Range.
"Co-operative Technologists (CoTech) is a growing network of UK worker co-operatives operating in the digital / technology sector. Since our inception we have grown to 28 member co-operatives with over 160 individual members. Our mission is to grow the size of our network, to encourage others to start their own co-operatives, to share knowledge and expertise and to collaborate on larger projects that we couldn't take on individually.
Last year we ran a successful retreat at Wortley Hall near Sheffield attended by 55 co-operators from 18 co-ops. This year we're planning to hold another retreat. We've provisionally booked Wortley Hall from the 27-29th November, and have lined up some excellent facilitation to make sure the retreat is a success. CoTech doesn't (yet) have any central legal entity or access to formal funding. We have typically relied on member Co-ops to self-finance their participation in the network through donations of time and money.
The cost of a 3 day residential retreat with facilitation is a financial burden for some of our members but we really want to allow as many members as possible to attend the event. We believe that the benefits of the retreat are large both for the attendees, the wider membership and for the broader Co-operative sector. A strong, educated and engaged CoTech will generate value within and without the network, and for the wider worker coop movement.
The goals of this event: education for our membership, bringing co-ops together, discussing and sharing best practice and spreading co-operative culture seem very well aligned to the purpose and values of SolidFund. The major costs for the retreat are: £20,000 for accommodation based on 73 available residential places and £87 per person per night for three nights at Wortley Hall. £5,275 for facilitation We propose to ask Solid Fund members to approve a grant of £3,000 to help with these costs.
We intend to offer discounted accommodation and facilitation fees on an honour system for those members who find the full cost of attending to be prohibitive. This will hopefully allow more of our membership to attend the event while still recouping the majority of the cost from those co-operatives who are in the position to pay the full amount. If the full amount of the grant is not distributed in this fashion we will use it to offset the cost of the event for all attendees. We're here to answer any questions about the proposal this week. We plan to create a proposal for voting here on Loomio on Friday 3rd with a week to reach a decision. This will give us time to put the funds to best use should we be successful."