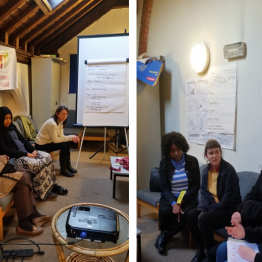 With support from the Fund, three members of Belfast Cleaning Coop visited Custom House Workers' Coop in east London in June 2015, to show support and learn from each other.
Custom House set up in July 2014. They were supported and advised by Belfast Cleaning Coop in the start up phase. Help with rules, business planning, financial planning, tendering and staffing was done by email, Skype and phone. A year on, it was agreed that a face to face visit would be beneficial. SolidFund contributed £480.00 to travel and accommodation costs for the trip.
Over two days, discussions covered a wide range of subjects including:
Issues around sweat equity: how do we ensure equal commitment from all members?
Who does what, when, and how - democratically?
How do we build the business to help new members come of benefits and into employment?
How do we agree on the path the coop takes, to be sure that members are working towards the same goals?
What happens when members don't agree?
Custom House had a number of questions including:
What are the tools of successful business, in your experience?
What was your first strategy?
How did you win contracts?
How did you share work and responsibility?
How many people did you start off with?
If a member contributes less because of family or personal issues, how do you deal with that, and how would it affect the business?
How realistic is it for a small group to go up against large, very competitive cleaning companies in London?
The visit was a success, bringing new learning and inspiration. For Custom House, the focus now is on gaining contracts, so if anyone can make a business introduction - large or small - it will be positively received.
For more information, go to customclean.org and belfastcleaningsociety.com