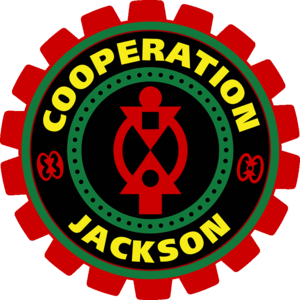 Solidfund members supported and helped organise Cooperation Jackson's UK speaking tour in the spring, and voted money towards startup costs for a new All-Ireland solidarity economy network.
Cooperation Jackson's long term vision is to develop a cooperative network based on four interconnected and interdependent institutions: a federation of local worker cooperatives, a cooperative incubator, a cooperative education and training centre (the Kuwasi Balagoon Center for Economic Democracy and Development), and a cooperative bank or financial institution.
Cooperation Jackson's basic theory of change is centered on the position that organizing and empowering the structurally under and unemployed sectors of the working class, particularly from Black and Latino communities, to build worker organized and owned cooperatives will be a catalyst for the democratization of our economy and society overall.
The new Ireland network will build on previous efforts to create a worker co-op network, this time bringing in other social and solidarity economy players to strengthen its development capacity. The founder members include Creative Workers Co-op, Belfast Cleaning Society, Unite the Union, An Áit Eile Galway, the Centre for Co-operative Studies, Hopes & Homes Co-operative Galway, Dublin Food Co-op - any many other individuals with experience of establishing and working in cooperative organisations.